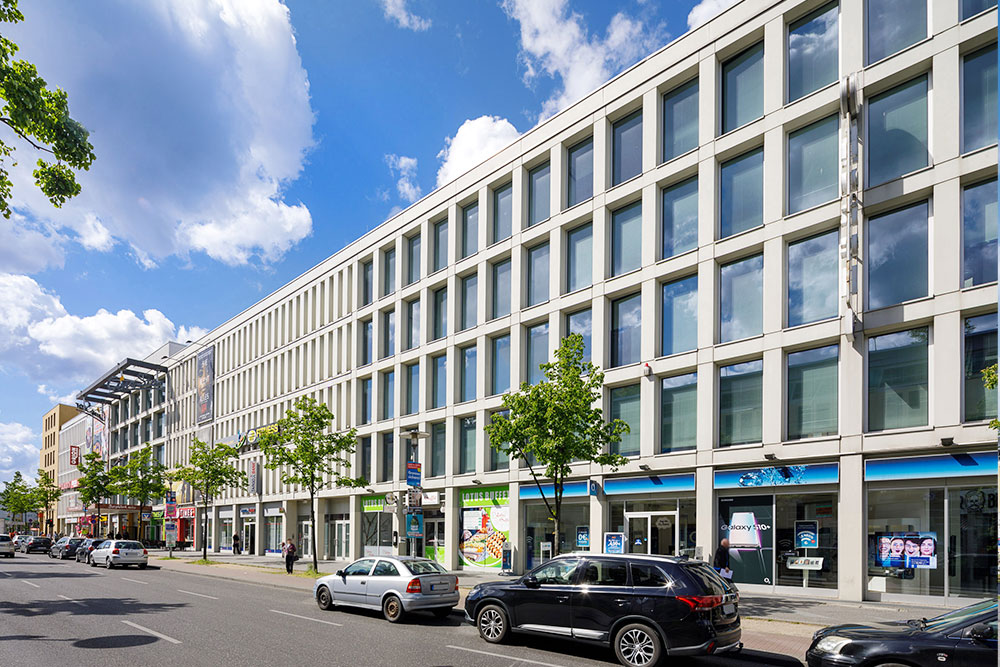 28. September 2020
In conjunction with the takeover of a majority stake in the non-performing property fund Mega 4 GbR, DVI acquired four buildings of the district centre known as "Helle Mitte" in the heart of Berlin-Hellersdorf. In addition to 62 lettable retail units with a total floor area of 22,000 sqm, the buildings provide 140 flats plus 10,500 sqm of office space and an underground car park.
The retail rental units are located inside the five-storey shopping gallery known as "Helle Mitte" and in the single-storey facilities outside the four buildings. They are used both as retail units and for gastronomy and entertainment purposes (e. g. a Cinestar cinema and BergWerk, the largest indoor climbing park in Europe). At the time the majority interest was acquired by DVI in summer of 2018, the vacancy rate of the retail units was approximately 30%. The situation called for a radically new letting strategy that included moving a number of tenants as well as many structural alterations and upgrades. Bringing in two supermarkets as new anchor tenants in 2019 marked the successful conclusion of the restructuring effort on the landlord side. The construction work is scheduled to be completed by 2021.
A large share of the office space is let to the borough council office of Marzahn-Hellersdorf on a long-term lease, and is used by the civic office and the registry office, among other occupiers. In summer of 2018 when DVI acquired the majority interest, several office units in the buildings were vacant and in a shell-and-core state. By winning the Alice Salomon University of Applied Sciences and the Vivantes-Klinikum and Helios Klinik hospitals as new tenants, DVI managed to permanently roll back the long-term vacancy in 2019.
DVI co-owns the property through a property fund in which it holds, jointly with its project partners, the majority interest.
DVI also owns housing estates with a combined total of 3,026 flats in the immediate vicinity of the district centre in Hellersdorf district.
more News